It can be discouraging to learn that you will need to wear glasses for the rest of your life. Aside from the headaches and fatigue that come with the adjustment phase, carrying and maintaining them can be equally burdensome. However, no matter how inconvenient the glasses may get, the improvement in your vision is well worth it. From constantly having to squint to look at objects or words to getting a clear 20/20 vision 一 the pros definitely outweigh all the cons.
To make this transition much smoother, this blog will assist you in selecting the right glasses for your face shape. Keep reading to find out what shape of glasses suit a round face, a square face, an oval face and more!
Trends change every year and so do popular frames. Although we cannot predict what trend will be in style, we can help you narrow down your selections for frame shapes by assessing your face shape. So, how do you figure out your face shape?
Determine your face shape
Before you start determining what face shape you have, you need to find the following measurements.
Face length: Measure the vertical length of your face from the top of your hairline to the bottom of your chin.
Forehead width: The horizontal distance across the centre of your forehead, from the hairline on either side of your forehead. Keep the measuring tape flat rather than bending it along the curvature.
Cheekbone width: Beginning at the highest point of your cheekbone, measure the distance from one cheekbone across your face to the other. Here again, keep the measuring tape flat against your skin rather than curving it.
Jawline width: Measure the width of your jawline from just behind your earlobes to the centre of your chin, then multiply the measurement by two. You can bend the tape to fit along the length of your jawline in this scenario.
Based on these measurements you can have one of the 6 most common face shapes: Oval, round, square, rectangle, heart or diamond.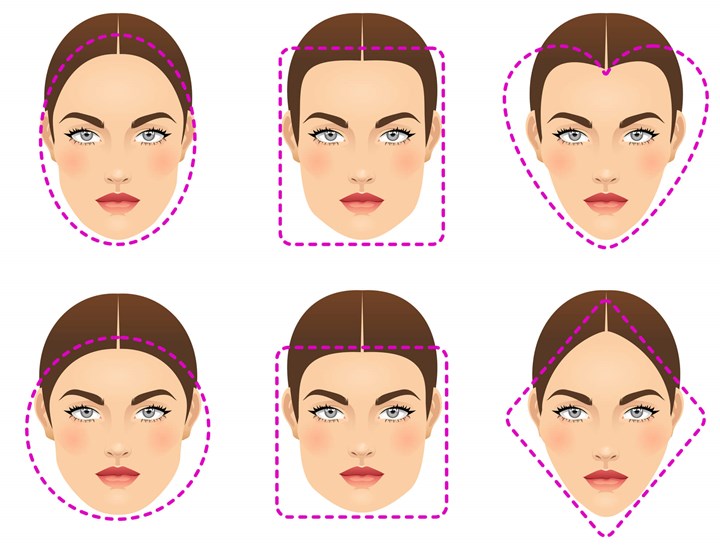 Even if you don't have a measuring tape, there are certain strong visual indicators to look for that will help you identify your face shape. However, if you don't think you can narrow it down to one shape just by looking, getting a hold of a measuring tape is recommended.
Now with these measurements, let's determine your face shape and the best glasses for your face shape.
Round face shape
If your face length matches/is the same as your face width then you are most likely to have a round face. Furthermore, a rounded jaw and a curved forehead (observe your hairline in this case) are also features of a rounded face.
Best glasses for round face shape:
Angular glasses frames, such as square, D-square, cat-eyes, aviator sunglasses, or spectacles, are recommended. These glasses shapes will add depth to your rounded face.
Square face shape
A square face is defined by a straight hairline, a squared jawline, and a face width that is similar to its length. Square face shapes are separated from round face shapes by their sharper angles and a constant face width across the length of the face.
Best glasses for square face shape:
Round, geometric, cat-eye, square, wayfarer and club master sunglasses or spectacles are some good options for a square face. To create length with a strong jaw like yours, attractive glasses must sit high on the nose.
Oval face shape
An oval forehead is a mix of square and round features. The forehead is usually narrower than the cheekbones, and the face is longer than it is wide. In contrast to the distinct, angular lines of a square face, the jawline and chin are more rounded.
Best glasses for oval shape:
A wide range of spectacles is available for those with oval faces. We recommend shopping for aviator, square, rectangle, geometric, and even cat-eye sunglasses or eyeglasses.
Rectangle face shape
A rectangular face shape is identical to a square face shape, with the exception that it is somewhat wider. A straight hairline, a tall and wide forehead, a squared jawline, and a face width that is slightly wider than the face length are its main characteristics.
Best glasses for rectangle shape:
You'll have plenty of options for frame shapes since this face type is identical to the square shape. Round, geometric, cat-eye, aviator, club master, and square-shaped sunglasses or eyeglasses will look great on you.
Heart-shaped face
A V-shaped hairline, a wider forehead, and a thin jawline are the major features of a heart-shaped face. Check to see if the width of your forehead is notably smaller than the width of your jawline. Now you can check if your hairline in the centre of your forehead has a V-shaped contour. In addition, your face should be longer than it is wide to have a perfect heart-shaped face.
Best glasses for a heart-shaped face
Round, cat-eye, aviator, square, and even geometric sunglasses or eyeglasses are recommended. Keep them as small as possible. Your striking facial features will be covered if you choose gigantic spectacles.
Diamond-shaped face
A diamond-shaped face is distinguished by its narrow forehead, wider cheekbones, and narrow jawline, which is accompanied by a pointed chin. Furthermore, the length and width of the face are practically identical in this case.
Best glasses for diamond-shaped face
You can choose from round, square, or geometric sunglasses or eyeglasses frames. Funky and contemporary spectacles can enhance your wide cheekbones while balancing your unique features.
You can make the transition from blurry to clear vision without having to compromise on your fashion sense. Our comprehensive guide should help you determine your face shape to pick eyewear that rocks every trend! And, if you're having problems adjusting to your eyeglasses and the headache and weariness persist, you can always consult eye doctors at one of the best eye hospitals in Karnataka at Prasad Nethralaya for quality care and services. You can either call us at +91 9513596565 or visit our website to book an appointment. Besides our multitude of clinical services, we offer a wide variety of eyewear collections and contact lenses for you to explore!  
Remember, just because you are sentenced to wear glasses, doesn't mean you can't wear them in style. Come down to Prasad Netralaya for functional eyewear that you can wear for any occasion.