Our team focuses on treatment whilst ensuring that the patient is comfortable and cared for.
Our translational research keeps up to the ever-evolving health care and medical procedures.
We're known for the advanced patient care provided by our expert team of doctors and staff.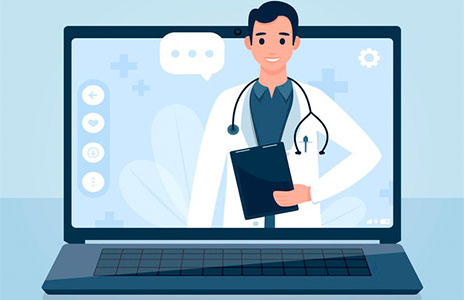 Dedicated to treating and enhancing vision since 2002, Prasad Netralaya, Mangalore and Udupi's leading eye care hospital, is now offering telemedicine services. Safety comes first, but it does not mean that we neglect eye health. Therefore, Prasad Netralaya makes it possible for you to avail our eye care services from the comfort and safety of your homes. Receive expert consultation, treatment and prescription, all without stepping out of your homes. We at Prasad Netralaya are eager to provide you with high-quality eye care services from anywhere, anytime. It is our greatest pleasure to be able to provide telemedicine service, through which people can connect with our specialists from the comfort of their homes.
How it works?
Connect with us on WhatsApp to clear your queries, book your appointment, arrange a vist and much more.
Book your appointment by scheduling a proper date and time for your specific consultation.
Pay online, confirm your name, phone number, issue, and other details before your consultation.
Get a one on one consultation from our experienced specialists for all kind of eye problems, at a pre-scheduled time.
Receive your high-quality eye care treatment, advice and prescription from the comforts of your home.
Patients Feedback
"Prasad Netralaya's telemedicine service is incredibly reliable and extremely easy to use."

"I just utilized Prasad Netralaya's telemedicine service and it was such an easy process. I used this service a few weeks ago to ask a question of a doctor. The doctor called me back promptly within the time I was told he would and he was very knowledgeable and respectful. Thank you Prasad Netralaya."

"To be honest I was very reluctant to use this service at first, but now u am glad I did! After getting in touch with a representative and describing my issues and giving out my details, I was told that the doctor would call me back in a while. The doctor called me back soon enough and gave me a proper prescription. I had a great experience with Prasad Netralaya and would happily recommend it to everyone"
Book your teleconsultation today
Would you like to avail our telemedicine service?
Would you like to avail our telemedicine service?
What kind of service are you looking for?