Our core strength lies in the development of a range of systems that have benefited thousands of patients worldwide for the diagnosis and treatment of various eye conditions and ailments. Our microsurgical devices and new forms of medical imaging and health information technology have resulted in improved health while managing costs simultaneously, thereby redefining ocular health care.
Take a look at our medical equipment and technology here, at Prasad Netralaya.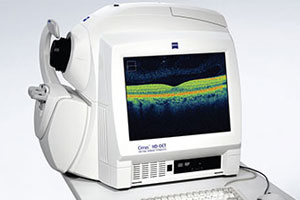 OCT–Stratus and Cirrus, Carl Zeiss, Germany
Ocular Coherence Tomography (OCT) is used to get a cross-sectional view of the intraocular structures. The main utility of these machines is in diseases of the retina and glaucoma. The Cirrus OCT has a very fine resolution of 5 microns, thus helping to detect any abnormality at the early stage.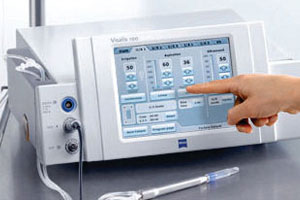 Phaco Emulsification, Sovereign Compact and Visalis 100
Phacoemulsification refers to modern cataract surgery in which the eye's internal lens is emulsified with an ultrasonic handpiece and aspirated from the eye. Our hospital uses these modern Phaco Emulsification machines to ensure rapid visual rehabilitation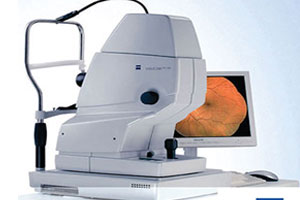 Visucam Lite, Fundus Camera
The fundus camera is a specialized low power microscope with an attached camera designed for taking photographs of the interior surface of the eye, including the retina, optic disc, macula, and posterior pole. These photographs are used for serial documentation and comparison. In addition, it also used for angiography of the retinal blood vessels.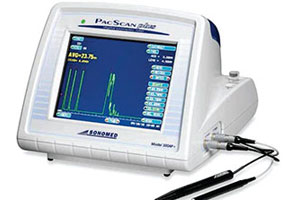 Corneal Pachymeter
Corneal pachymetry is the process of measuring the thickness of the cornea. In our hospital, we have multiple instruments to measure corneal thickness, such as ultrasound pachymeter and Optical Coherence Tomography based pachymeter. Corneal thickness measurement is important in the preoperative workup of LASIK as well as in Glaucoma.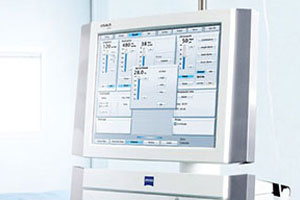 Visalis 500
A modular system for phaco and vitrectomy with an exceptionally broad spectrum of applications in the anterior and posterior segments: that's VISALIS 500. It combines unique ergonomics with a series of flexible performance drivers that let you live your skills:
Innovative MICS function
Dual linear foot pedal
Dual pump technology
Hight-speed vitrectomy
In short: VISALIS 500 is convenient, flexible and efficient.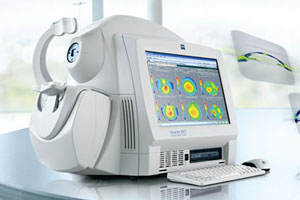 Visante Anterior Segment OCT, ZEISS, GERMANY
3The Visante OCT system provides highly detailed images of the anterior chamber, including dependable angle information, without the need for ocular anesthesia or a messy, time-consuming water bath.
New LASIK information Visante OCT can image, measure and document both corneal flap thickness and residual stromal thickness immediately following LASIK surgery. A unique flap tool enables quick measurements of flap and residual stromal thickness. And as a completely non-contact system, the stability and safety of LASIK flaps will not be compromised.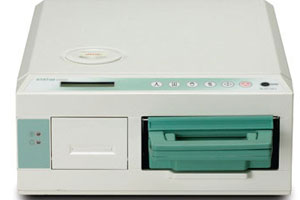 Statim Flash Autoclave
1 Like the STATIM 900, the STATIM 2000 boasts a 6- minute cycle but has the added advantage of employing a fully removable chamber so you can aseptically transport a set of freshly sterilized instruments directly to the procedure area.
The STATIM 2000 is fully automatic. Simply select one of the three sterilization programs and with a single touch of the keypad, begin the cycle. An advanced microprocessor controls all functions and maintains optimal sterilization conditions, from start to finish.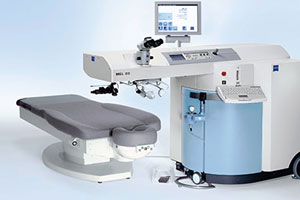 MEL 80 Lasik System Carl Zeiss, Germany
The MEL 80 is a fourth generation Carl Zeiss excimer laser platform, taking vision correction to a new level. By reshaping the human cornea to its most natural shape during treatment, your vision can now be similar to the quality of lenses on which Carl Zeiss has built its reputation. The goal is to deliver high-resolution vision with a custom treatment unique to your prescription.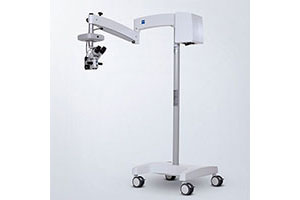 1FR Pro Operating Microscope Carl Zeiss, Germany
The OPMI® 1 FR is a surgical microscope sharply focused on the needs of ophthalmology – and an amazingly good value for the money. Legendary Zeiss optics provide a crisp, crystal clear image with superb contrast. A large number of benefits – the integrated 5-step magnification changer, motorized focusing, and fiber optic illumination – are your guarantee of outstanding ease of use. In addition, the retinal protection device optimally protects your patient against excessive irradiation.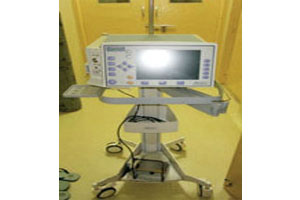 Sovereign Compact Phaco Emulsification System, AMO, USA
The SOVEREIGN® Compact system is a full-featured system in an affordable, space-saving package that ensures chamber stability through advanced digital fluidics. Designed for ease of use, efficiency and reliability, the SOVEREIGN® Compact system now offers ELLIPS® FX technology, the total approach to lens extraction technology.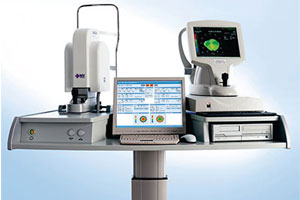 WASCA wavefront Analyzer
The WASCA Wavefront analyzer can offer refractive correction with personalized treatment using wavefront technology. In this, a new standard for laser vision correction is achieved, providing a precise level of measurement and correction never possible before. Just as individual-sized as a fingerprint is, each person's vision is 100 percent unique to their own eyes. Earlier, spectacle prescriptions could only provide a certain level of correction regardless of an individual's needs.
Now, MEL 80 laser with wavefront technology can measure and correct the unique imperfections of each individual's vision and provide them with even better vision than is possible with glasses or contact lenses, as well as improve the quality of vision and correct glare and haloes.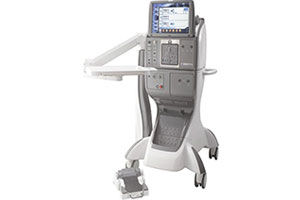 Constellation ® Vision System From Alcon U.S.A
The Anon CONSTELLATION® Vision System establishes the standard of surgical control. Combining ULTRAVIT ® High-speed Vitrectomy Probes with Duty Cycle Control, Integrated Pressurized Infusion & IOP Compensation, Advanced Xenon Illumination, and V-VELOCITY ® Efficiency Components to deliver an exceptional level of performance.
Vitrectomy Surgery Advanced Technology
The CONSTELLATION ®Vision System delivers an exceptional level of performance through its advanced technologies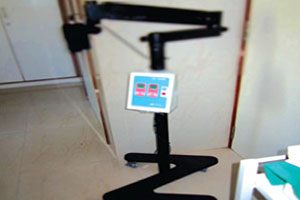 C3R Corneal Collagen Crosslinking
The UV radiation in combination with Riboflavin initiates molecular cross-linking of corneal collagen. Thus progressive corneal thinning is slowed down or even stopped. Biomechanical strength of corneal tissue is improved. A number of clinical studies have demonstrated that progressive keratoconus and iatrogenic ectasia can be stabilized by corneal crosslinking.
TECHNICAL SPECIFICATIONS:
Homogenized UV Radiation System.
Working distance – 30 mm.
Wavelength: 360 – 380 nm.
Fine Focusing system.
Adjustable Illumination Intensity: 1mW/cm2 to
Floor stand.
8mW/cm2.
Digital timer 1 minute to 99 minutes.
Variable Illumination Spot Size.
Power Requirements: 230V/110V AC, 50 Hz.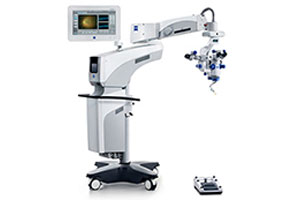 Opmi Lumera I Fromzeiss Germany
With Stereo Coaxial illumination (SCI), OPMI Lumera ® I from ZEISS incorporates a revolutionary technology for red reflex. Contours appear razor sharp. See intricacies of the ocular anatomy and details of the patient's eye more vividly and brilliantly than ever before.
A Stable RED Reflex without compromises
Better depth of field means fewer adjustments
Light without interruption.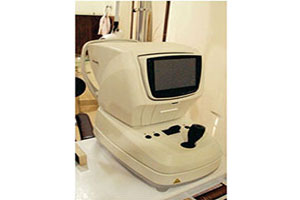 Visu REF 100 Auto Refractometer, Carl Zeiss
VISUREF 100 Autorefractor/Keratometer with a wide measurement range from -25D to +22D and operational modes to measure refraction, keratometry, corneal diameter, and contact lens base curve. Motorized chinrest and 6.4″ TFT tiltable color LCD screen, Integrated thermal printer, and RS-232 interface.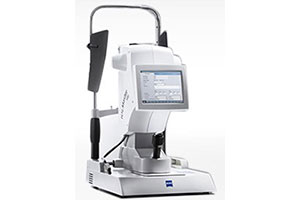 IOL MASTER 500 FROM CARL ZEISS GERMANY
The ZEISS IOL Master® 500 is the gold standard in optical biometry with more than 100 million successful IOL power calculations to date. With the ZEISS IOL Master 500 you get a piece of cutting-edge technology this points the way to the future of optical biometry. Improving REFRACTIVE outcomes. Advanced measurement of Challenging eyes. Maskless toric IOL alignment, ease of use.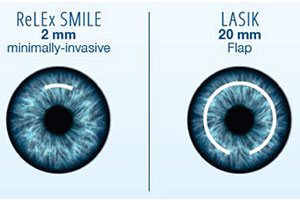 What is ReLEx SMILE Technique?
ReLEx Smile offers patients the possibility to undergo refractive correction without the need for a flap cut. The procedure is the first and only bladeless and flapless minimally invasive 3D technique to visual freedom.
ReLEx Smile combines the extensive experience and superior safety of traditional vision correction techniques with numerous innovative benefits, high precision levels and perceptibly greater comfort during the treatment itself.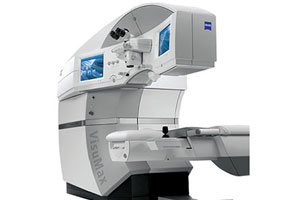 3D laser vision correction without a flap:
Older vision correction techniques involve making a thin flap on the cornea and folding it back, allowing the tissue to be removed, point by point, using an excimer laser. ReLEx smile is different. The procedure involves the creation of an extremely thin 3D layer in your intact cornea, corresponding to your refractive number that needs correction. Entirely laser controlled, it is done in a few seconds – precise, safe and comfortable.